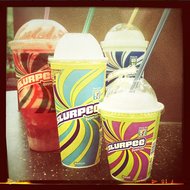 The hot July weather brings plenty of cool deals:
Fourth of July deals
• Boston Market is offering family meals at half price on Independence Day.
• Lowe's Home Improvement is giving a 10 percent discount to all veterans who served honorably and who present a valid Form DD214 or other proof of service.
Other July deals
• It's National 7-11 day on July 11, and 7-Eleven convenience stores are serving up free Slurpees.
• July 11 is also National Cow Appreciation Day. Wear your cow costume to Chick-fil-A and get a free meal.
• Celebrate National Cheesecake Day June 30 with half-off a slice of cheesecake at the Cheesecake Factory.
Etc.
• Shop now for great deals on outside furniture and grills, as well as shorts, bathing suits and T-shirts. Think about buying now for your child's 2015 summer wardrobe.
• As soon as the Fourth of July is behind us, retailers will start gearing up for Back to School. But don't buy yet – better deals await.
• The produce aisles are exploding with deals on seasonal items such as tomatoes, melons, corn and berries. Now is a great time to freeze or can items.
Source: and complete article here